Posted by

Dap1
Guest T.G.I.F. Boss, Lydia Popovich:
Another Friday night in Gurp City means it's time as MC Oroville would say, to "Do SoMETHing!"

Here's some ideas on shit to get into.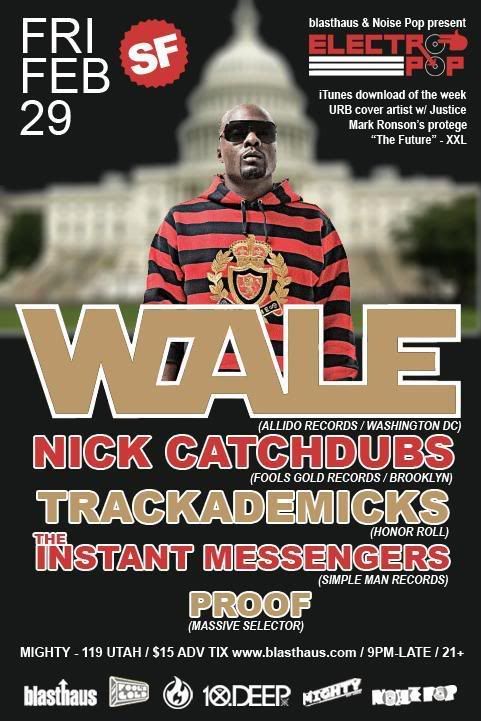 Wale, Catchdubs, Trackademicks and The Instant Messengers // Mighty 9PM // 119 Utah SF $15
Wale and the homie Trackademicks are doing some shit at Mighty with Catchdubs and Brandon B's favorites The Instant Messengers, whose pants incidently are tighter than yours. A lot of folks are feelin' Wale, I'm not really up on game but Gurp City's own Lord Facials is. He interviewed dude not to long ago for Vapors. That shit's online and can be accessed here. Trackademicks is the homie and his Honor Roll crew really know how to have a good time so grab your neon track jackets and lace up those limited edition alligator dunks and get down there.
Wesley Willi's Joy Rides // Artist's Television Access 7 & 9:15PM // 992 Valencia SF $8
Wesley Willis (RIP) is one of the most fascinating people to have ever graced this earth. This documentary explores his life, his music, his art and the demon hell rides that he took him from obscurity to fame. Rock over London, Rock on Chicago. If you ain't knowin' I suggest you start your introduction by YouTubin' his now infamous interview with Howard Stern.
Funkside Toph One with special guest Z-Man /// Nickies 466 Haight SF Free before 11pm or $5 after
It goes down every Saturday, tomorrow it's True Justice featuring ya boy Z-Dazzle on the mic. Thuggy Fresh would be there but his seester is getting married so he asks that you,"quadruple fist miller high-lifes, smell your keys in the bathroom and point a finger in the sky for me."

Every year around this time Noise Pop takes over venues across SF and fills them with indie rock loving hipsters. There is a wide variety of folks playing this year. Peep the schedule and take your significant other to a non-rap show for once. NP is putting on a few free to the public "expo" events this year including an educational seminar and a bazaar of sorts both at 12 Galaxies. Tomorrow is the educational seminar. Yours truly will be on a panel talking about how to use the interweb to market and propel your musical careers. Come heckle me. Sunday DJ Ryan Poulsen will be spinning the cuts for the masses who show up for Pop & Shop, the fashion and craft bazaar.
I've got no other suggestions for Sunday, I'll be busy putting together a video of the footage I took last weekend when I caught SergDun reenacting this video down at the local YWCA.