Posted by

Thuggy
Courtesy of Luke Puke:
This is Balls of Fucking Steel weekend… the gurp is finah get thick and ugly… First off, my boy Dave (Kracker) from SJ, bartender at Trials Pub who pours em stiff (just ask Topr what effect a few of his drinks and a couple Hoegartten's had on a Wed. night performance at Johnny V's a few weeks ago) hipped me too this crackin' party on Friday with midgets and hot bartenders wrestling each other in astroglide! The spot is called Jack's it's at 4th and Taylor in SJ. Me and E-rock have been known to frequent the spot on a Thurs. when Kracker, the relly Bobby, and a DJ named Strictly 7 get down weekly. Strictly 7 has been known to rock a baby blue tux and only plays 45s hence his name, and has 7-inches of every break that you and Breakbeat Lenny can name, plus all the early rap 45s off Profile, Def Jam, Jive, etc… his set is a rap nerd's dream. Jack's would be a cool spot for Gurp City to start throwing some shows, and Kracker Dave (not to be confused with Mean Dave from Bad Touch) is looking into it... G.I. played Kracker's b-day party there awhile back and the shit was live, drunk and intimate just the way we like it. Anyway peep Jack's for yourself and watch midgets wrestle hot bitches desperate for attention while the girls say gross.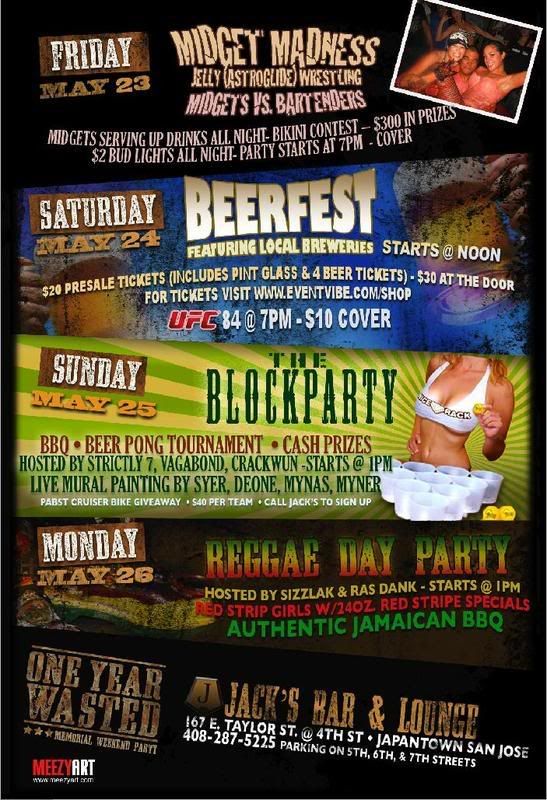 This weekend we are also paying homage to Dennis Richmond who is retiring after 40 years of obviously blunted news service. Richmond is the g, 'cause he never sold out to the networks and kept it live with the ORIGINAL 10 o'clock News of KTVU Channel 2 (fools have always bit the Bay, movin they news from 11 to 10 just 'cause we did and shit! pffft.) A perfect Gurp City Icon: No SellOut!; He put in work and stayed to the curb and we want to honor the man somehow. So, we got the image now who has the button hook-up?

(Also: There's a Dennis Richmond tribute concert in Dolores park on Sunday)
so that's Friday night and if you aren't celebrating the end of Bachelorhood with Eons on Sat. check out SergDun's ill fuckin' party all in yo ass Beer and Rap styley:

Oh, and for whatever reason, Thuggy thinks it's important for everyone to known that him and Faydog will be in Chico Thurs. (where Fay will be jumping on stage with the Dr Becky Sagers PHD at Nick's nightclub.) and Fri. night for graduation, with their May Moooostaches at their gnarly longest looking for the golden hutches at the end of the cocaine rainbow.
keep an eye on the comments for more updates on whats poppin all weekend. -thuggy