Posted by

Thuggy
Heres a message from Lord TopR keep an eye out for when he's heading to your city. -thuggy


Gurp City fam Topr is makin moves… PLEASE SUPPORT THIS ISH
A lot has been happening in the world of TOPR, and its about time you all were filled in. The Marathon of Shame album was picked up by 2b1 Records, a local label here in SF. They filmed the original album release party at 12 Galaxies in SF and pieced together a DVD documentary that will be included as a bonus disc with the new album. It has hella interviews, live graf footage, music videos, old ass freestyles from me and The Earthlings at Maritime Hall and new performances from Conceit, BOAC, Delinquent Monastery, Thunderhut Project and myself. Theres even a mind blowing 10 min + turntablism set from scratch innovator DJ Quest. The whole thing clocks in at over 73 minutes.
Heres a trailer for the film…
2b1 also secured me a national distribution deal with Sony Red, which means the album can be bought at any record outlet in the US and Canada. Yes, you can buy my new CD/DVD "The Marathon of Shame" at a store near you. If you want to make sure to get the album you should go to your local independent or even corporate record store NOW. If i can get people to pick up enough units I can keep the album in stores. If no one buys it the first month I'm fucked… so if your a true TOPR fan YOU WILL GO ORDER THIS ALBUM AT A STORE NEAR YOU RIGHT AWAY. If its not in stock have then make them order it for you from Sony Red. Tell your friends… this is the most important step my career has ever taken and I need your support.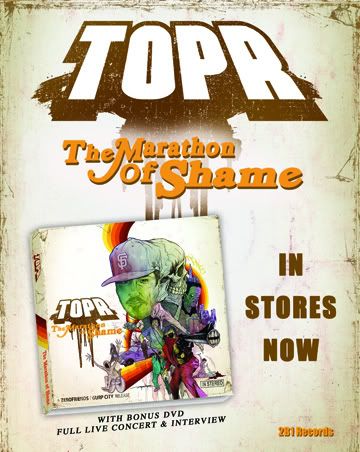 I'm also embarking on tour to support the album: east coast dates (with GFE) and west coast dates (with foul Mouth Jerk, Dick Nasty and DJ ATM). Please spread the word and repost this flier to your friends in these citys. If you have never seen a TOPR show, I think the DVD trailer above proves its a experience not to be missed.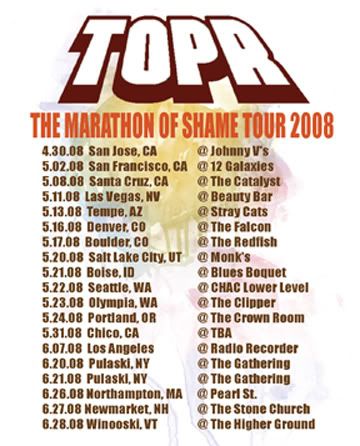 I'm still a grassroots, independent artist with a small budget and a lot of heart. I wouldn't have been able to make it this far without the support of my friends and fans. That being said, i need your support now more then ever. Call local radio shows and request to hear TOPR "The Marathon of Shame". Spread the word to your friends on myspace and message boards/blogs. Help me make this work, because I can't do this shit forever. This is my last big shot, please help me reach the people who need to hear music like mine… otherwise I'm going to have to figure something else out, and thats not an option I'm ready to live with. Fuck that shit. Thank you for all the love and support over the years, lets keep it moving.

Here's to You,
Topper Holiday
E-Lings / Gurp City / LORDS / CMA / PCF / CBS
p.s. My whole catalog is still available on Itunes.