Posted by

Dap1
One of Gurp City's finest artists, Aye Jay has been grooming a protoge for the past 6 years. His son Cohen has been collaborating with well known artists for a minute. His pieces were revealed at his first art show a few weeks ago in Chico, CA at Crux Gallery. Next up for 6 year old Cohen is his first visit to Minneapolis, Minnesota with his dad to open his next showing at First Amendment Arts gallery June 16th and 17th.
First Amendment Arts is proud to present "Dessert," the collaborative art of
6-year-old Cohen Morano.Much like the title of the show, the art has no
grand illusions to be anything but a sweet feast, but for the
eyes rather than the taste buds. When asked about why he named the show as
such, he simply replied,"Dessert is really good."

From the age of two (with a little help from dad, Gangsta Rap Coloring Book
artist Aye Jay), Cohen's watercolor paintings have traveled the globe to a
"Who's who" of modern art, spanning graffitists, fine artists, printmakers,
tattoo artists, as well as clothing and toy designers. Once in the artists'
possession, they have carte blanche to do whatever they wish to one of
Cohen's watercolors before shipping it back to eager little hands.

What has come back has been nothing short of stunning, from Barry McGee's
intricate pen work, Shepard Fairey's iconic stencils, Chris Ware's animals
on parade, to Mark Ryden's interpretive use of negative space. With the
number of pieces now well over one hundred, artist Jack Davis (of Mad
magazine fame) called Cohen "another Ralph Steadman." Other artists involved
in the show include Juxtapoz regulars Bigfoot, Kaws, and Gary Taxali, Ego
Trip's Brent Rollins, rappers Rammelzee and Z-Man, gig poster giants Art
Chantry and Frank Kozik, and Burlesque's own Aaron Horkey, Todd Bratrud, and
Mike Davis. While these collaborative pieces will not be for sale, this is a
very rare opportunity for Twin Cities art enthusiasts to come see work from
all of these artists in the same place at the same time.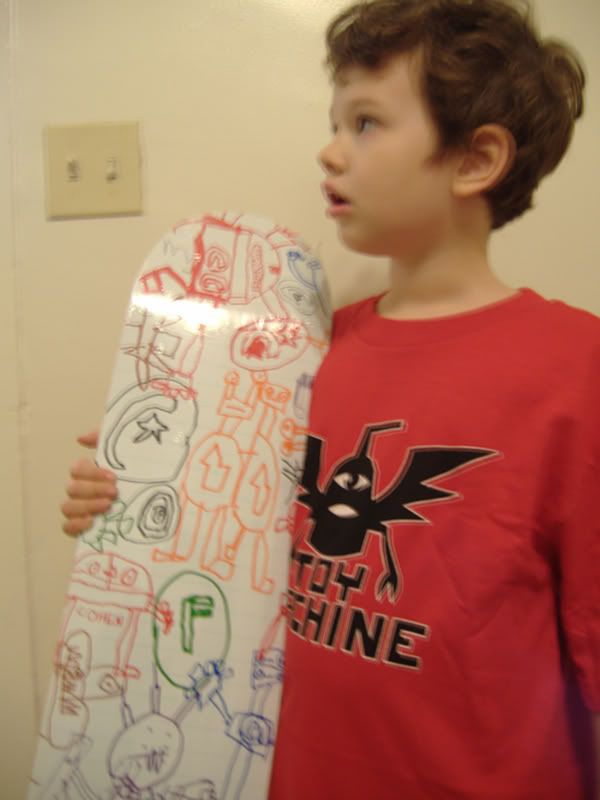 When not painting or drawing, Cohen is your average 6 year old. He loves
going to kindergarten, watching cartoons, eating mac and cheese, and
everything Star Wars. This last October, Cohen was asked to design a
skateboard for Foundation's limited edition "F Art" deck series, and his
work has been featured in reccurring blog entries on the respected art
website http://fecalface.com.

The show will run from June 16th through July 17th, 2007. We will have an
opening reception on June 16th, 6-10PM (note: no late night afterparty) with
music from DJ Mike the 2600 King. Both Cohen and Aye Jay Morano will be in
attendance.

First Amendment is located at 1101 Stinson Blvd at the corner of Broadway
and Stinson in NE Minneapolis.
(612) 379-4151
http://firstamendmentarts.com

Gallery hours:
Monday – Friday: 12 – 5PM
Weekends: by appointment

High-resolution images of Cohen's collaborative art can be found online:
http://firstamendmentarts.com/events/07-june/press